Colleges, Schools & Institutions
Energy costs are the largest operating expense for school districts after salaries and benefits. The higher education sector owns and operates tens of thousands of buildings, owns millions of acres of land and spends nearly $10 billion each year on energy. Given the large energy needs of our college campuses and K-12 schools, it is no surprise that more and more institutions are looking to alternatives in saving energy, improving productivity, and decreasing environmental impact. The modernization of campus energy systems presents significant opportunities for higher education facilities to attract new students and reduce utility, operation and maintenance costs. Most institutes of higher education must deal with a patchwork of old and new equipment, varying levels of operational efficiency and the lack of a campus energy management system to control overall energy use. For state schools, stricter energy consumption rules can stress budgets as funds are sought for mandated upgrades.
Building types include:
Educational Group E Buildings
Business Group B Buildings (above grade 12)
K-12 Public or Private Schools
Universities
Day care facilities
Research institutions
Offsite campuses
Benefits of Energy Efficiency in Campuses
#EfficiencyFirst –  Energy efficiency measures are the cheapest way to meet many energy needs and reduce associated emissions, and many solutions are available today and can be instated more quickly and will help reduce energy for long and short term measures.
Controlled Environment: Campuses are highly structured, controlled environments and colleges have the ability to deploy resources quickly
Environmental Awareness: At many schools, environmentally conscious students, faculty and staff are eager to develop and implement energy efficiency solutions.
Innovation Hubs: Campuses provide testing grounds to save energy, using "intelligent" information technology and experimenting with zero-net energy and passive building techniques. The Georgia Institute of Technology recently opened a carbon-neutral research lab and is designing another facility as part of the Living Building Challenge, a green building certification program
Common Issues within Campus Infrastructure
Out-of-Date Infrastructure: Many campuses have older buildings that were not designed to be energy efficient, or that rely on outdated equipment. Universities can make cost-effective investments to improve building performance, such as widespread adoption of low-energy LED lighting, and undertake building retrofits to improve insulation and upgrade heating and cooling equipment
Energy-Intensive Facilities: Certain facilities on campuses are uniquely energy-intensive and provide powerful opportunities for energy savings. Research laboratories, for example, require energy for proper ventilation to keep lab workers safe. Campuses across the country are taking measures to reduce operational costs in labs, including shutting the sash on fume hoods, using appliance timers, and storing samples at slightly higher temperatures where appropriate
Developing Strategies: Calculating baselines and monitoring weekly results
Communication: Sharing information and optimizing efficiency between many different sectors of the campus
Forging Collaborations: between the Sustainability Coordinator and many campus entities including Student Government, Physical Plant, Residence Life, Dining Services, building secretaries, professors, and numerous student groups
Sectors that Influence Energy Efficiency
Heating, Ventilation and Air Conditioning (HVAC) Systems
On average, ventilation systems consume 7 percent of the electricity used in education buildings. Savings can be found by installing efficient fan motors and sizing the system to match your load (which may now be lower due to other measures you have already adopted). Often, insufficient ventilation air in classrooms is simply due to clogged intake screens that are difficult to access for inspection and cleaning. To prevent this problem, ensure that all HVAC system air supply diffusers, return registers, and outside air intakes are clean and unobstructed. Replace filters regularly.
A boiler replacement can have a payback of less than 6 years when combined with other energy-saving retrofits; otherwise, a school district may not reach payback for that new boiler for as long as 60 years.
Deferred maintenance leads to frequent equipment malfunctions, and shortened equipment lifetime.
Piecemeal additions to buildings and internal changes to existing spaces often require corresponding changes to heating and cooling systems.
Inappropriate attempts to reduce energy use like blacking out windows and covering vents.
Portable classrooms often have inadequate ventilation systems, high levels of indoor air pollutants and poor acoustics.
Major capital equipment like boilers or roofs nearing the end of its useful life.
High Efficiency Lighting
Lighting represents about 26% of electricity consumption in a typical school, not including its impact on cooling loads; lighting retrofits can save 30-50% of lighting energy, plus 10-20% of cooling energy. Read more on high energy efficient lighting on the website here.
Light pipes can be a fairly low-cost retrofit or schools, particularly in rooms without windows. Light pipes deliver daylight from the roof or exterior wall-mounted collectors through reflective tubes.
Compact fluorescent lamps (CFLs) can replace incandescent lamps in many applications, reducing energy use by two-thirds and yielding savings of up to $20 per lamp per year
School athletic fields are often illuminated by incandescent and quartz lighting systems, but these are being replaced. Lighting professionals recommend metal halide lights that use less energy, last three times longer, and reduce glare. In 2003, Hillsborough County in Florida upgraded to metal halide lamps at 130 outdoor fields and courts and estimated savings in the first year of $7.7 million in energy costs, plus maintenance savings.
Occupancy sensors save energy but also help to reduce maintenance costs by lengthening the relamping interval. Turning fluorescents off for 12 hours each day can extend the expected calendar life to nearly seven years—a 75 percent increase.
Buildings with abundant natural light have been shown to decrease absenteeism rates, improve student test scores, and increase employee productivity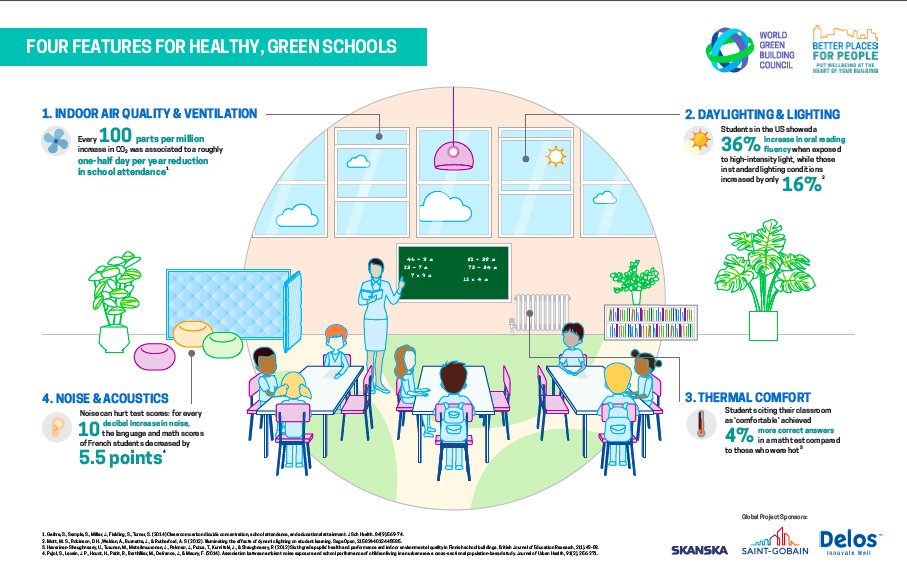 Source: https://pbs.twimg.com/media/DPziS1KW0AMg0fg.jpg:large 
Appliances and Electronics
Plug loads from equipment such as computers and copiers represent about 20 percent of electricity used in education buildings. When purchasing these types of items, look for ENERGY STAR–qualified products, which use 10 to 50 percent less energy than conventional models without compromising quality or performance. Read more about appliance efficiency on our website here.
The ENERGY STAR Power Management program provides free software that can automatically place active monitors and computers into a low-power sleep mode through a local area network (www.energystar.gov/index.cfm?c=power_mgt.pr_power_management). Whole-computer power management can save $15 to $45 annually per desktop computer; managing only monitors can save $10 to $30 per monitor annually
Renewable Energy
Many school districts are relying on renewable energy sources, in particular solar and geothermal, to meet energy loads that have been reduced using a variety of energy efficiency measures. Geothermal heat pumps, which capture heat from beneath the earth's surface, can use 25–50 percent less energy than traditional heating and cooling systems. Reducing energy consumption prior to installing renewable energy generation systems can significantly reduce the size, and thus the cost, of the generation system. In addition, energy cost savings produced by the energy efficiency measures can offset a portion of the cost of the generation system, thus reducing its payback period (EPA, 2008).
Case Studies
Performance Contracting: North Carolina at Wilmington University
Source: Ameresco
The University of North Carolina at Wilmington (UNCW) partnered with the energy service company Ameresco to conduct an investment-grade audit of campus facilities that identified potential energy efficiency measures (EEMs). Twenty-four EEMs were selected and are under consideration to be implemented between 2012 and 2013. UNCW established a performance contract valued at around $14M and lasting 18 years. In accordance with industry standards, this performance contract will leverage EEMs with quick payback periods, like lighting projects, in order to fund other projects with longer payback periods such as infrastructure expansion and replacing large equipment like air handling units, chillers and boilers.
Additional Resources
EPA's Healthy School Environments Assessment Tool

to store and track data on facility conditions.

Benefit from ENERGY STAR resources to measure and track energy use and expenses (www.energystar.gov/ benchmark), plan cost-effective building upgrades (www. energystar.gov/bldgmanual), set performance targets (www.energystar.gov/newbuildingdesign), and learn about how to manage building data (www.energystar.gov/ businesstraining).