Existing Buildings
Intro paragraph speaking to the needs of building retrofits, opportunities to improve performance during renovations and remodels, and how regular recommissioning can identify and help improve performance issues.
Where to Start
Intro paragraph… where to start.  All upgrade projects should begin by establishing a benchmark rating. Initial water and energy usage data are necessary in order to measure the progress of a project or projects.
Want to see how much money can be saved by retrofits and energy upgrades? Create a baseline from water and energy bills from the past year, make improvements, and see the savings reflected in lower utility bills. Record when improvements are made, so positive results can be duplicated across individual units, or entire building portfolios! ENERGY STAR performance ratings can help an organization identify its best and worst performing facilities. Low-scoring facilities are the most cost-effective place to begin upgrades and improvements.
Be mindful of the impacts a single building improvement can have on the entire building's performance.  Before investing in major projects, consider how improvements to one system will affect other systems in the building. Take lighting and air conditioning for example. Changing light bulbs from incandescent to fluorescent or LED reduces energy usage and costs, it also significantly reduces heat load. Upgrading a building's lighting before investing in major air conditioning upgrades can prevent oversizing, saving you valuable energy and money.
Obtain a building performance audit that addresses energy, water, indoor air quality and other performance issues….  Key areas to improve for the greatest return include:
HVAC
Lighting
Air Sealing
Appliances
Etc.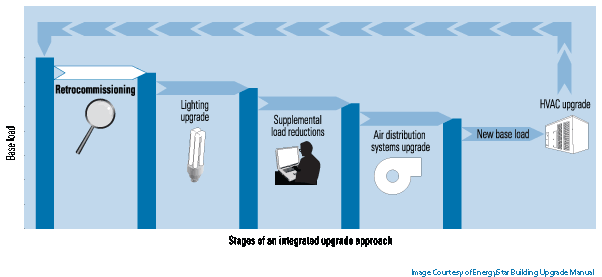 Identifying Common Performance Issues
Intro paragraph… why, importance of energy, top areas, etc.
Click here for information on common performance issues.
HVAC Systems
HVAC systems: Should be properly designed, sized, installed, sealed, controlled and maintained.
What You Can Do: Inspect the supply and return ducts, collars and fittings, and areas where ducts connect to the supply registers. Use sealants or sealant tape to patch holes and leaky areas in the HVAC system. Avoid duct tape; this misnomer fails quickly in the presence of rapid temperature fluctuations. Insulate the ductwork wherever possible with duct insulation sleeves, foil backed self-adhesive foam, or fiberglass batting. More information can be found here.
Automated fresh air ventilation, energy and heat recovery systems.
Air Leakage and Infiltration
The U.S. Department of Energy estimates that the average U.S. building loses 20 to 30 percent of treated air through leaks.  
Weather-resilient building envelope design and materials.
Insulation and Thermal Envelope
T
Continuous exterior insulation that is properly sealed.
North Carolina Case Studies
Insert case studies here
Insert case studies here
Insert case studies here
Additional Resources